There are three different types of virtual cards you can create with Extend: Standard, Recurring, and Guest. You can also upload a CSV to create virtual cards in bulk - up to 100 at a time.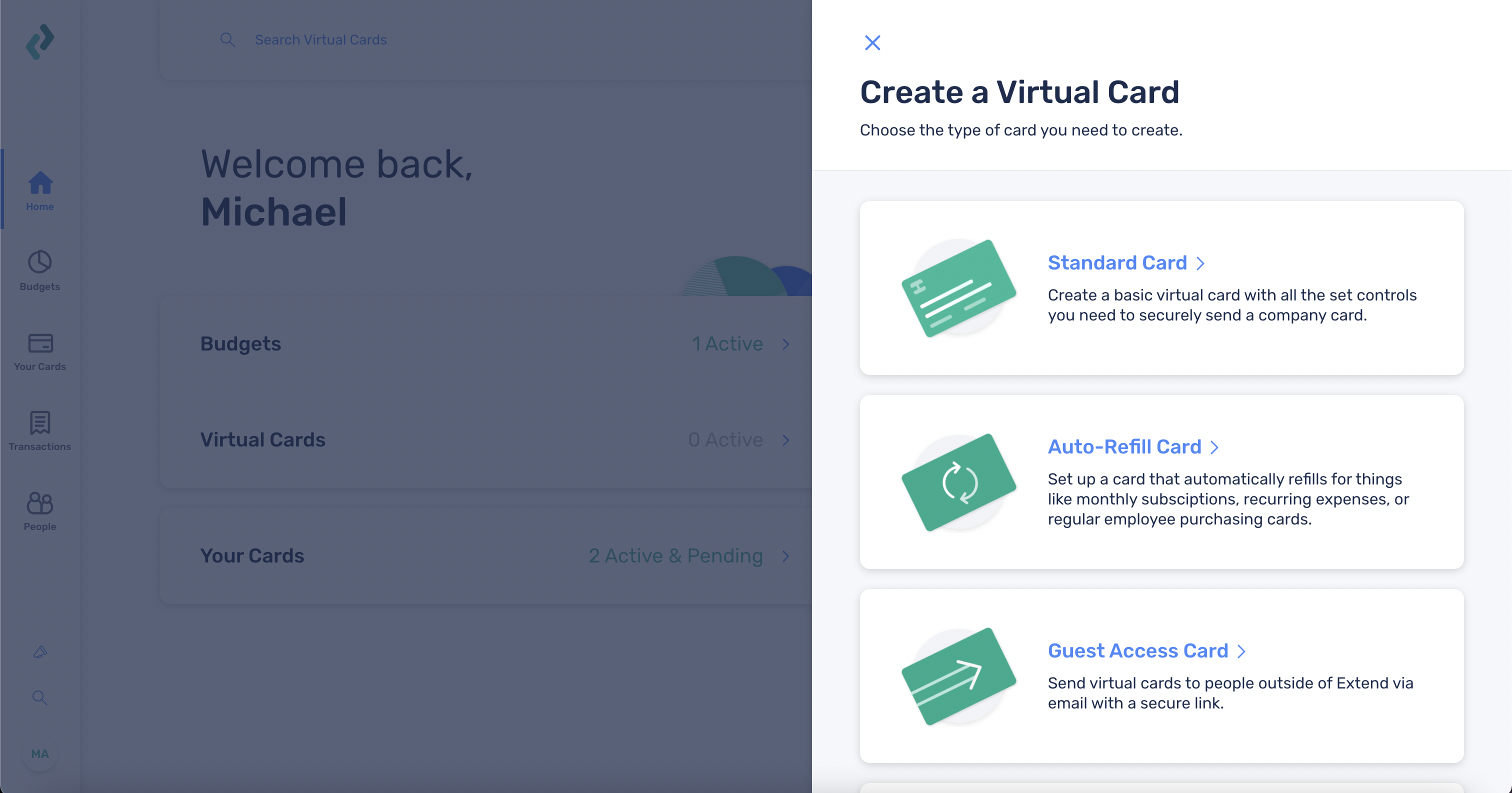 Standard Card
A Standard card is a basic virtual card that can be used for regular spending needs (such as one card per vendor, one per project, or one card per employee), or as a single-use card. They can only be used up to their set credit limit and will deactivate once their Active Until date has passed. You can always update these cards to increase the Credit Limit or extend the Active Until date. For more information see the Create Virtual Cards article.
Recurring Card
A Recurring card is just like a Standard card, except you can set a frequency at which the card will automatically refill to its Credit Limit (daily, weekly, monthly, on a particular day, etc.). These cards are useful for monthly subscription payments, recurring vendor charges, or managing employee spending every day, week, month, or quarter. For more information see the Recurring article.
Guest Card
Guest cards are designed to give access to a virtual card to anyone outside of Extend who only needs it once, such as contractors, interviewees, vendors, etc. This type of card does not require the recipient to have an Extend account to use it, instead they will receive an email with a secure link to their card details. However, if it's likely that they will need to access the virtual card a few times then the Guest card may not be the best option for them.
Note: The primary cardholder can edit the details of a Guest card at any time, but the recipient will not be able to request changes, upload attachments, or add notes. If the recipient chooses to register with Extend, they will then be able to see the card in their Extend account.
Advanced CSV Upload
Bulk cards are also available with some of our participating bank partners and allow you to create up to 100 virtual cards at a time. To create virtual cards in bulk, you will need to create a .CSV file with all the virtual card details and recipient emails to upload to Extend. For more information see the Create Virtual Cards in Bulk article.