How to add teammates to your Organization
Inviting people to join your Organization in Extend will give you powerful visibility and control over spending across your team.

Only the Org Owner or Admin can invite (and remove) people from the Organization.

Members of your Org will be visible to everyone else who has joined your Organization. If you send or receive virtual cards with someone outside of your organization, you should save them as a contact. (Learn more about the difference between Org members and contacts here.)
Introduce Extend to your team
Download the email template to help your team learn about using Extend.
Sending an invitation
When you invite someone to join your Org, they will need to create an Extend profile (if they don't already have one) before accepting the invite.

To invite someone to join your organization:
1.Select Invite people under "Invite members and contacts" on the right side of your Home page.
You'll see a prompt to "Invite People.". You can either invite someone to join your organization or just add them as a contact.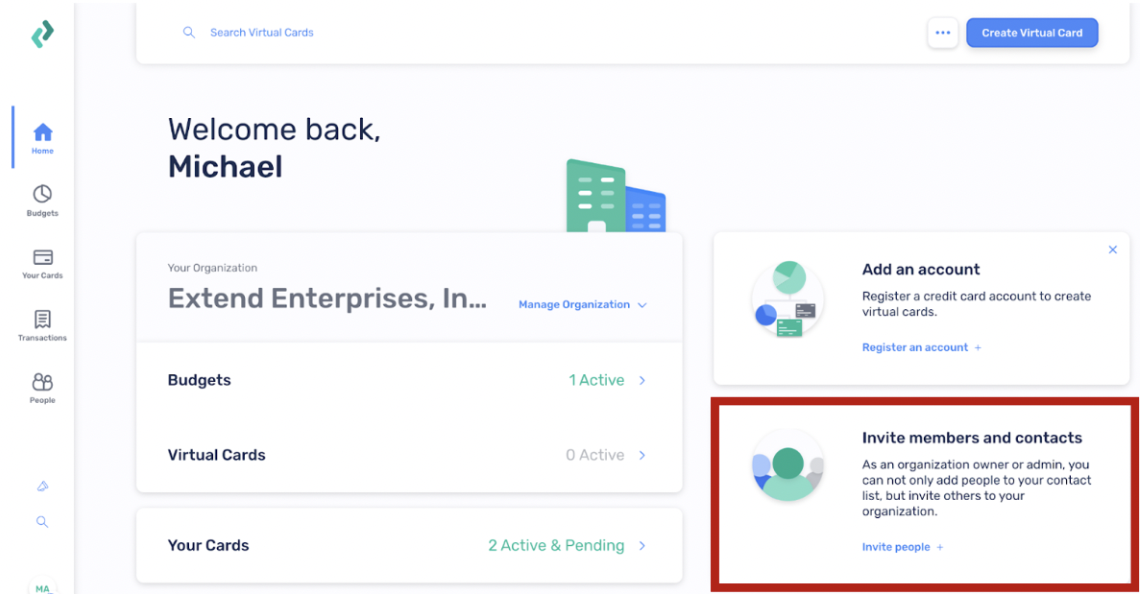 2. Click "Invite to Organization."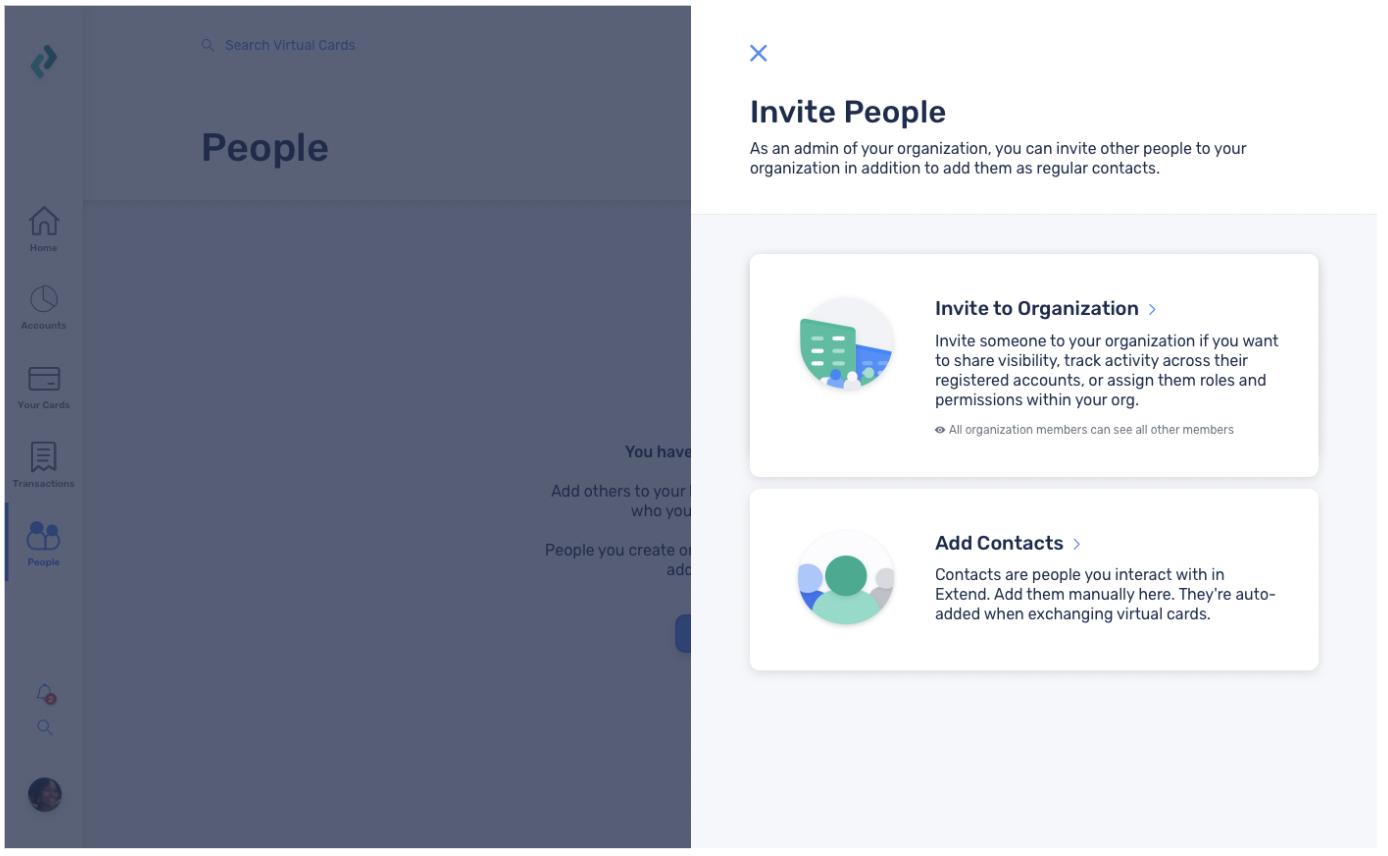 3. Enter the email address of the person you want to invite in the Email Addresses section. You can enter up to 100 email addresses at a time by separating each with a comma.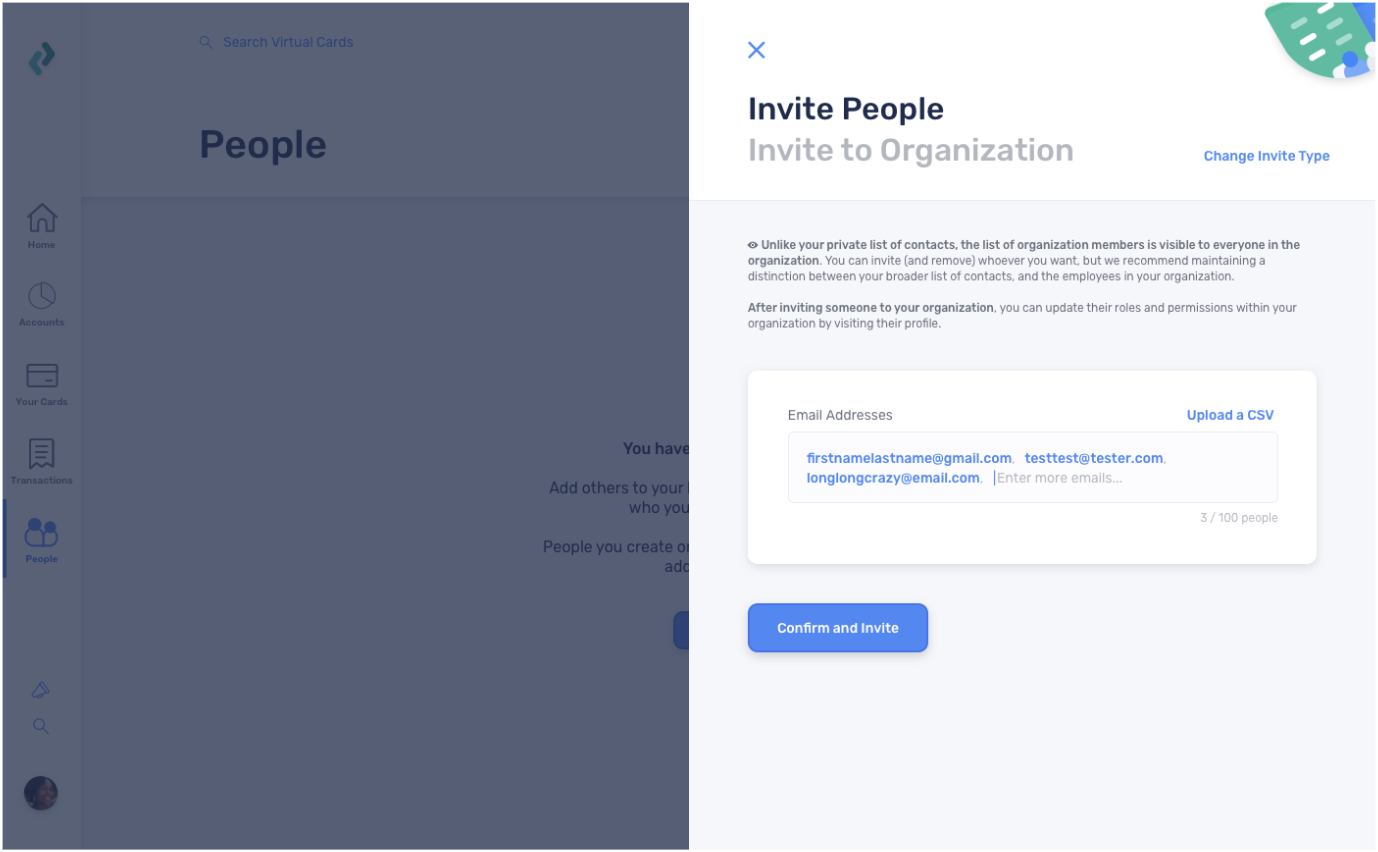 Accepting an Invitation
When someone is invited to an organization, they will receive an email with a link to view the invitation in Extend.
Email with link to invitation

Recipients can accept or decline the invitation to join the Organization. When recipients accept or decline an invitation, the sender will receive a notification.
Invitation in the Extend app
An Extend user should only be a member of one organization at a time.
Note: If at any time a user needs to be removed from an Organization or switched to a different Organization, please contact support.
Pending Invitations
Individuals who have been invited to join an Organization will appear on the People page under the Invited to Org tab until they accept or decline the invitation. Organization invitations do not expire.
Here, the person who sent the invite can also send a reminder invitation by selecting Reinvite, or cancel the invitation by selecting Cancel.